Capital Trading Group Blog
Quick Update on the Equity Sell Tsunami
02-06-2018
Just a quick update on this record breaking almost 5% down day in the equity markets, but in reality the streak is still intact; the SP500 Index hasn't had a 5% pull back since June of 2016 the longest streak in history. Today was close but it didn't bust the barrier as of the 3pm close. However, the futures markets after the cash close extended losses to fall past the 5% marker. But to calm all fears, the equity markets have merely taken back the initial 2018 run up and a little bit of December depending on your Index du jour. Some funds will no doubt come in and buy here and the market should stabilize, but in no way is the market out of the woods.
As our readers know, our equity indicator is actually a U.S. interest rate, yield curve metric and we fully understand when funding rises, so too does leverage costs and it can really creep up fast. Anyway this should just be a warning sign for things to come if the FED continues the rate hike path. The equity volatility is just following on the heels of the Crypto volatility and in terms of Bitcoin all the talk of bubble this bubble that, well those of us who have been involved from the very beginning realize that the ups and downs in orders of magnitudes are just another facet of the new technology. Pension Partners Charlie Bilello captures it best with this analysis of the Bitcoin data which points out 5 corrections over 70%: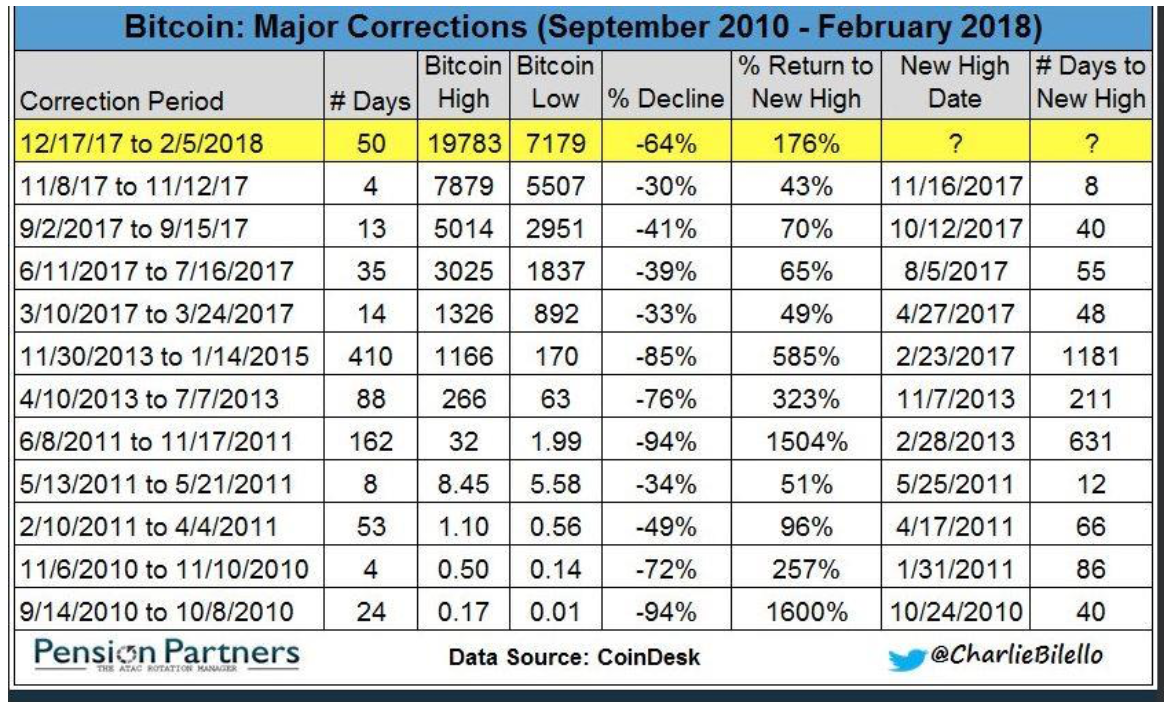 Ok here are the futures charts from Keystonecharts.net, the SP500 lost 140 points to 2616.75 and took back 2 months of upside: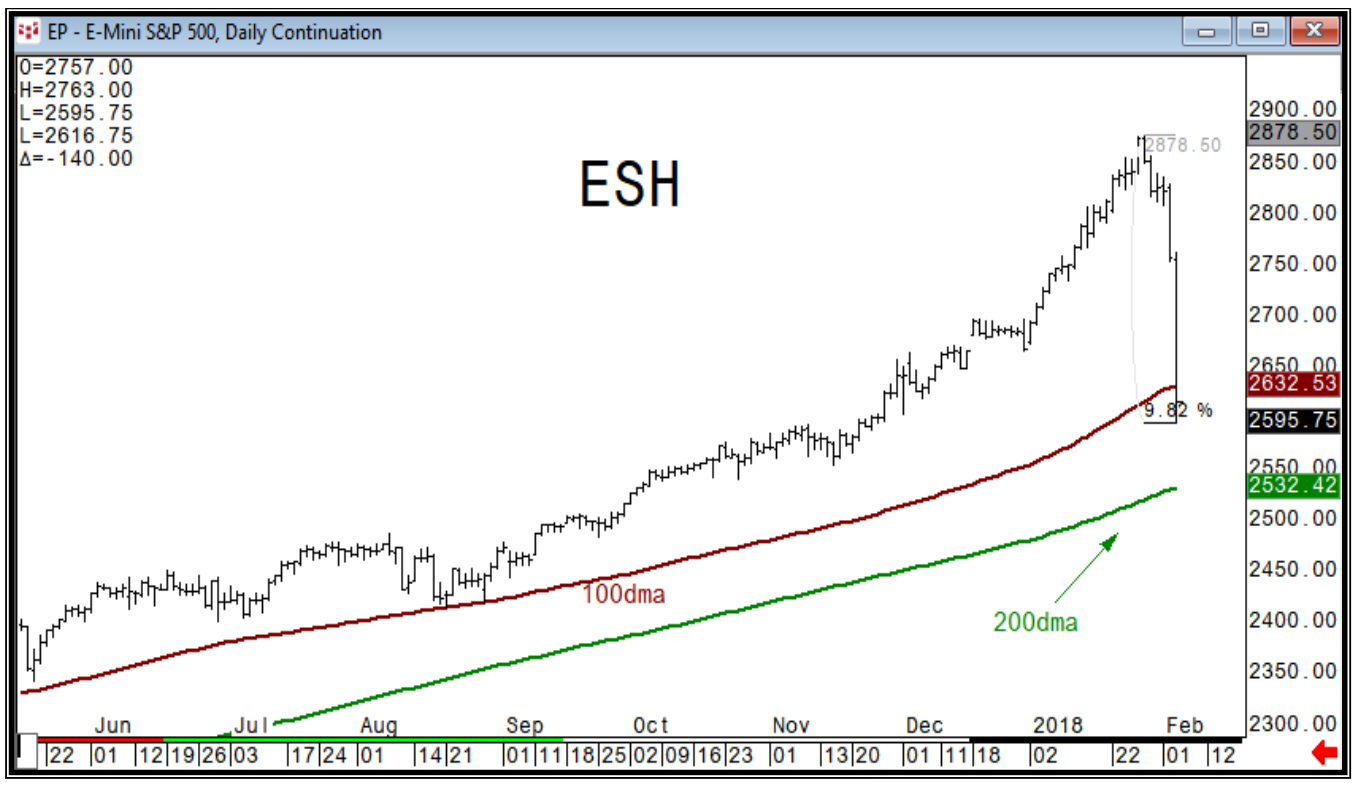 The Nasdaq futures lost 288 points and settled 6467.25: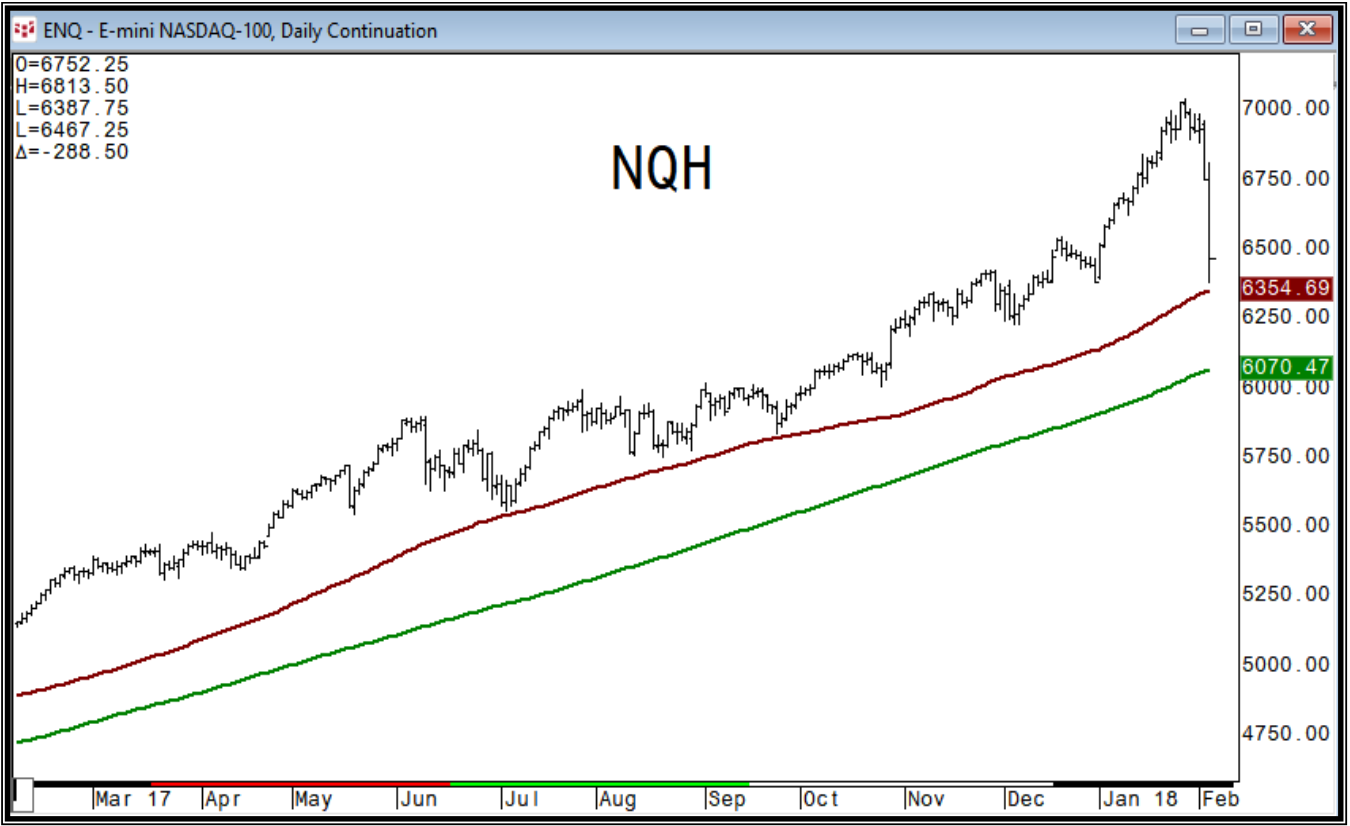 The Dow futures lost 1175 and settled at 24345.7: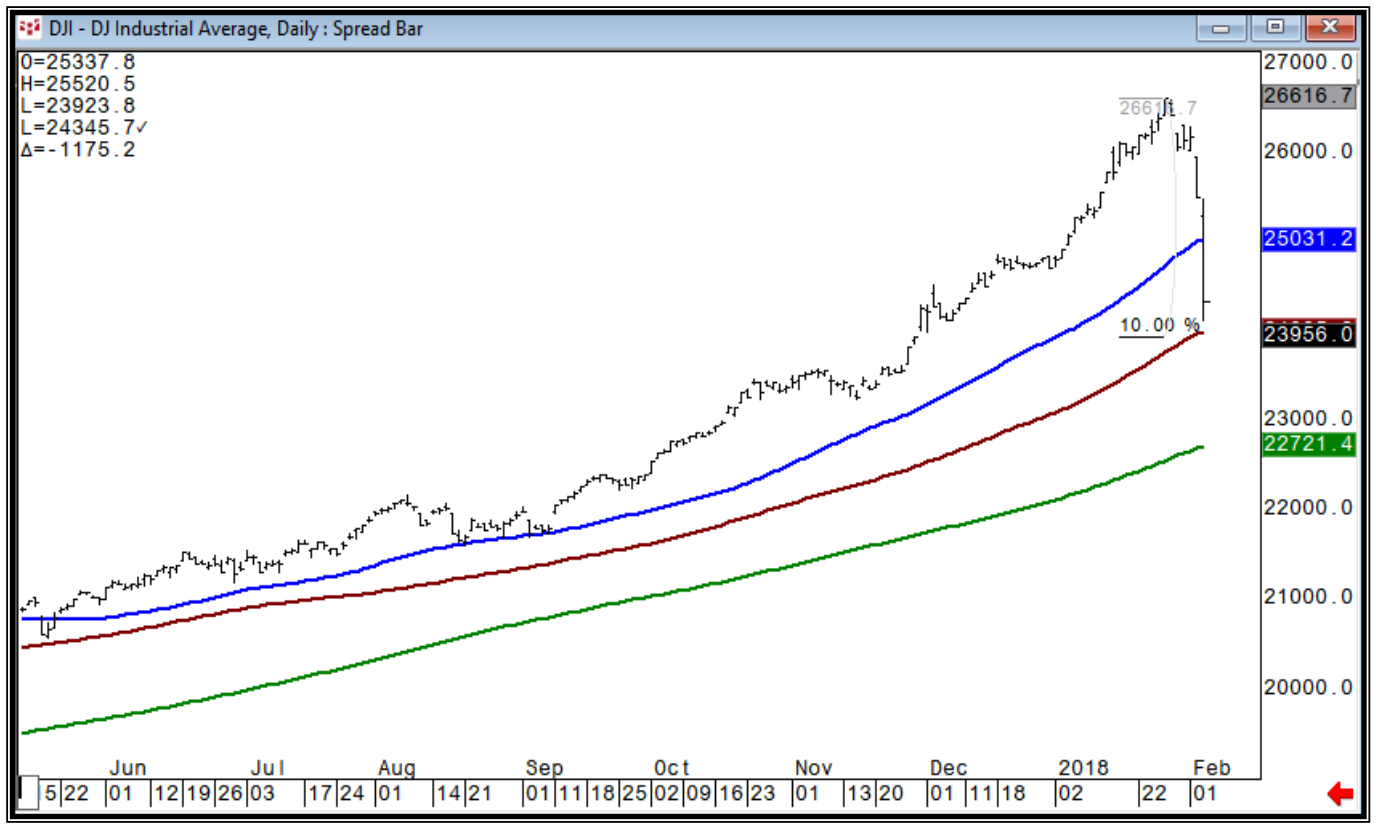 If you listen to CNBC , they will blame the severity and speed on "algo's" what is annoying is that they use this term as if the market exists outside of this AI structure. It doesn't, the market is controlled by the likes of Citadel and Virtu and when funds try to sell the liquidity evaporates and those with the fastest connections pull orders faster than sellers can hit bids, that is the reality and that is the artificial market construct that exists. This doesn't surprise real traders like ourselves because we know the market mechanics and we understand them. Anyway in our opinion, this market will regain footing, but the terrain is rocky and the road a bit more slick. As we have stated for many months now, when the central banks pull back, so too will the market, they are unequivocally one and the same.
Finally This is a nice warm market welcome to the new Fed chair Powell as the market losses beat the 2.1% drop on former Chair Yellen's first day in office almost exactly 3 years ago today. Ok that's it for now, expect a full letter in the coming day, Cheers!
Finally, we will decidedly end our notes with our reaffirmation of the growing need for alternative strategies. We would like to think that our alternative view on markets is consistent with our preference for alternative risk and alpha driven strategies. Alternatives offer the investor a unique opportunity at non correlated returns and overall risk diversification. We believe combining traditional strategies with an alternative solution gives an investor a well-rounded approach to managing their long term portfolio. With the growing concentration of risk involved in passive index funds, with newly created artificial intelligence led investing and overall market illiquidity in times of market stress, alternatives can offset some of these risks.
It is our goal to keep you abreast of all the growing market risks as well as keep you aligned with potential alternative strategies to combat such risks. We hope you stay the course with us, ask more questions and become accustomed to looking at the markets from the same scope we do. Feel free to point out any inconsistencies, any questions that relate to the topics we talk about or even suggest certain markets that you may want more color upon.
____________________________________________________________________________________
Capital Trading Group, LLLP ("CTG") is an investment firm that believes safety and trust are the two most sought after attributes among investors and money managers alike. For over 30 years we have built our business and reputation in efforts to mitigate risk through diversification. We forge long-term relationships with both investors and money managers otherwise known as Commodity Trading Advisors (CTAs).
We are a firm with an important distinction: It is our belief that building strong relationships require more than offering a well-rounded set of investment vehicles; a first-hand understanding of the instruments and the organization behind those instruments is needed as well.
Futures trading is speculative and involves the potential loss of investment. Past results are not necessarily indicative of future results. Futures trading is not suitable for all investors.
Nell Sloane, Capital Trading Group, LLLP is not affiliated with nor do they endorse, sponsor, or recommend any product or service advertised herein, unless otherwise specifically noted.
This newsletter is published by Capital Trading Group, LLLP and Nell Sloane is the editor of this publication. The information contained herein was taken from financial information sources deemed to be reliable and accurate at the time it was published, but changes in the marketplace may cause this information to become out dated and obsolete. It should be noted that Capital Trading Group, LLLP nor Nell Sloane has verified the completeness of the information contained herein. Statements of opinion and recommendations, will be introduced as such, and generally reflect the judgment and opinions of Nell Sloane, these opinions may change at any time without written notice, and Capital Trading Group, LLLP assumes no duty or responsibility to update you regarding any changes. Market opinions contained herein are intended as general observations and are not intended as specific investment advice. Any references to products offered by Capital Trading Group, LLLP are not a solicitation for any investment. Readers are urged to contact your account representative for more information about the unique risks associated with futures trading and we encourage you to review all disclosures before making any decision to invest. This electronic newsletter does not constitute an offer of sales of any securities. Nell Sloane, Capital Trading Group, LLLP and their officers, directors, and/or employees may or may not have investments in markets or programs mentioned herein.