Capital Trading Group Blog
CryptoCorner (May 2)
05-02-2018
Hey Crypto-Corner fans, welcome to another edition, let's get to this past week's news first: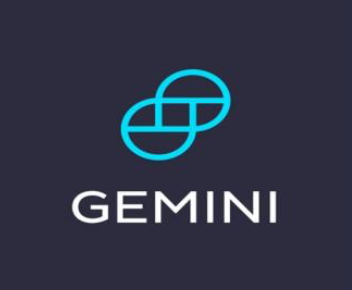 Nasdaq Inc. and Gemini, the bitcoin exchange founded by Cameron and Tyler Winklevoss, have agreed to team up to fight fraud and manipulation in the crypto exchange venue world. Gemini will use Nasdaq's "SMARTS" surveillance software to monitor activity on its exchange. This is further solidifying the merger between established players and those at the forefront of the crypto revolution. (WSJ)
Michael Oved founder of Airswap and cofounder of the HFT group Virtu Financial Inc. finally opened its door's last week for business. Airswap is a decentralized cryptocurrency market that brings together, "execution, settlement and custody," directly to the user and away from any middleman interference a Bloomberg article noted.

Dutch multinational banking giant ING is getting into the blockchain space and they said they have come up with a modified version for "zero-knowledge range proofs." This was deemed an improvement in part because it uses less computational power and therefore runs faster on a blockchain. (Coindesk)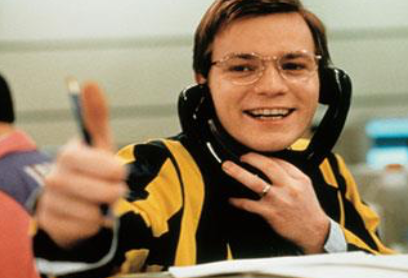 On a side note some of our other more veteran traders may remember ING when they took over Barings Bank for $1£. Back in 1995 Barings and their infamous "rogue trader" Nick Leeson hid a bunch of terrible bets on the Nikkei in what is now famously known as the legendary 88888 error account, saddling the bank with $1 billion in losses. Nick led authorities on a wild goose chase around the globe, eventually turning himself in. Ewen McGregor played Nick in the movie named after the "Rogue Trader."
Bloomberg reports that most of the cryptocurrency trading occurs on exchanges based in Malta. This has regulators concerned but veterans of the crypto space are certainly more open to the most hospitable jurisdictions and as most blockchain enthusiasts know, those that adopt it will flourish, those that don't will be left behind! Anyway, here is a chart they posted: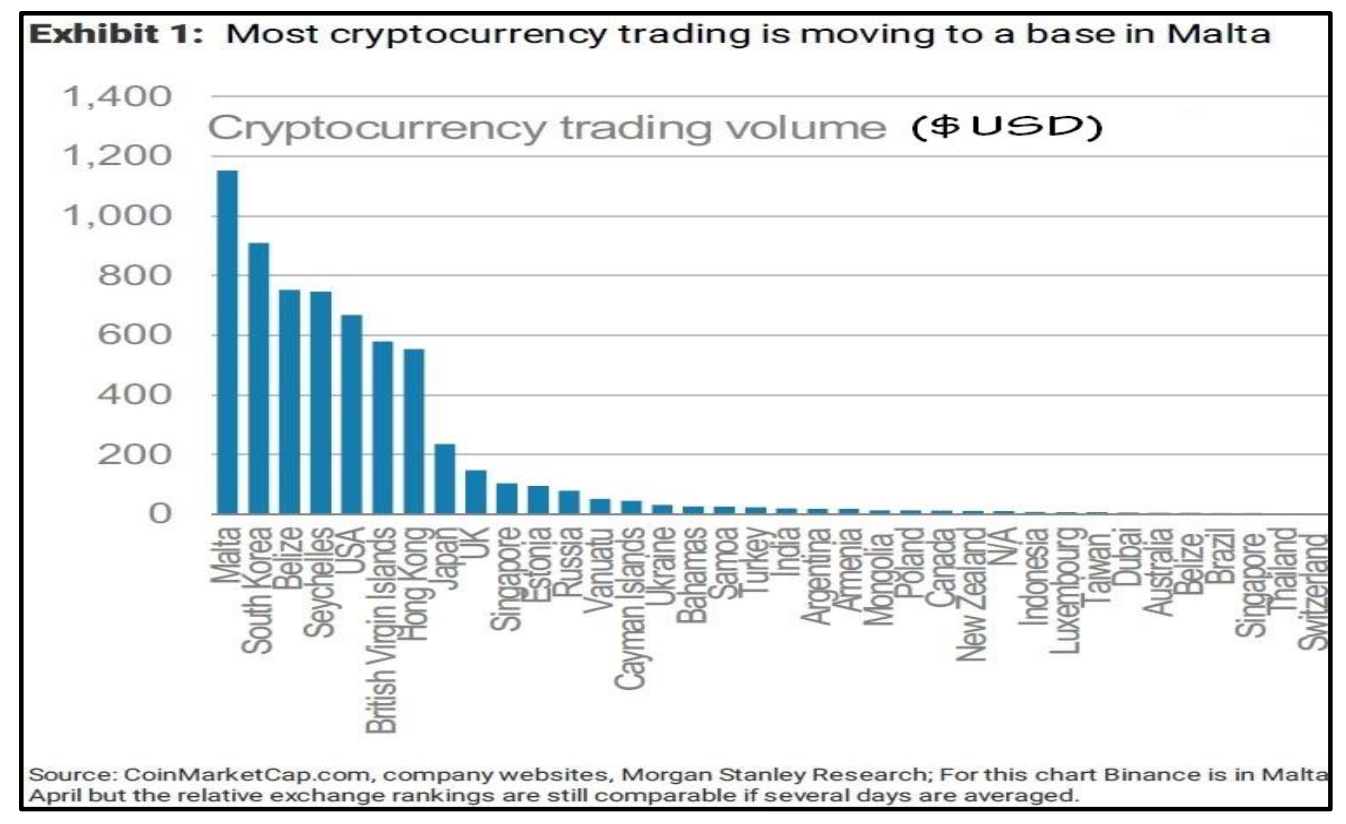 In other news and adding to all the hype around EOS this week is that there are over 50 candidates vying for the 21 Supernodes that will support the new mainnet. EOS is scheduled to migrate from the Ethereum network on June 2nd.
Link to this article from bitcoinmagazine.com can be found Here and traders should read it.
CFTC Chairman Christopher Giancarlo was out again with positive comments about Bitcoin last week, stating that Bitcoin has "elements of all of the different asset classes and that bitcoin might best be suited for a long-term buy and hold strategy rather than a form of payment." (CNBC) – You know what we think, he is gearing up for a cushy Crypto space private sector job, makes sense right?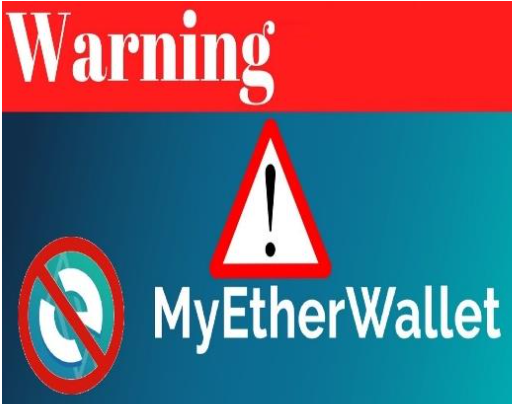 It seems as if Russian hackers are responsible for the DNS attack on Amazon Web Services servers which hosts the Myetherwallet website. The rerouting of user traffic to Myetherwallet led to $150k of cryptocurrency being taken from customer wallets. The hackers were able to gain access via the BGP or Border Gateway Protocol redirecting traffic to a dummy site on their own servers. Now this wasn't the biggest heist but it is just another example of the ongoing security concern, not just for cryptocurrency, but the entire viability of the internet itself. We can't stress enough the usage of paid for premium security suites, not that they catch everything, but at least they offer the possibility of avoiding a malicious website, which is basically what this was.
Cointelegraph reported this week that IBM filed a patent for a "Proof-Of-Work Protocol" tailored to IoT networks. The patent configuration will address potential security issues in IoT networks in an application published on April 26th. IBM has certainly seen the light and realize the huge potential they can add to the growth of the Blockchain ecosystem.
Coincentral.com compiled a great list of the top cryptocurrency exchanges, we won't list them all but it's a good resource for those readers looking for a home, you can find the link to the article Here
Also of note this week as highlighted by a few accounts on twitter as well as the site cryptoground.com which shows the Mt.Gox cold storage wallets, that $165 million worth of BTC and BCH were moved out of cold storage. For those that remember a few months back the Mt.Gox trustee sold around $400 million worth of BTC and Kobayashi the man in charge was blamed for the steep selloff. So some are speculating they are gearing up to dump the $165 million, so just be aware of this when trading.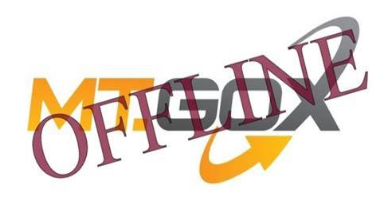 Ok let's move to the settlements for the week ending April 27th 2018: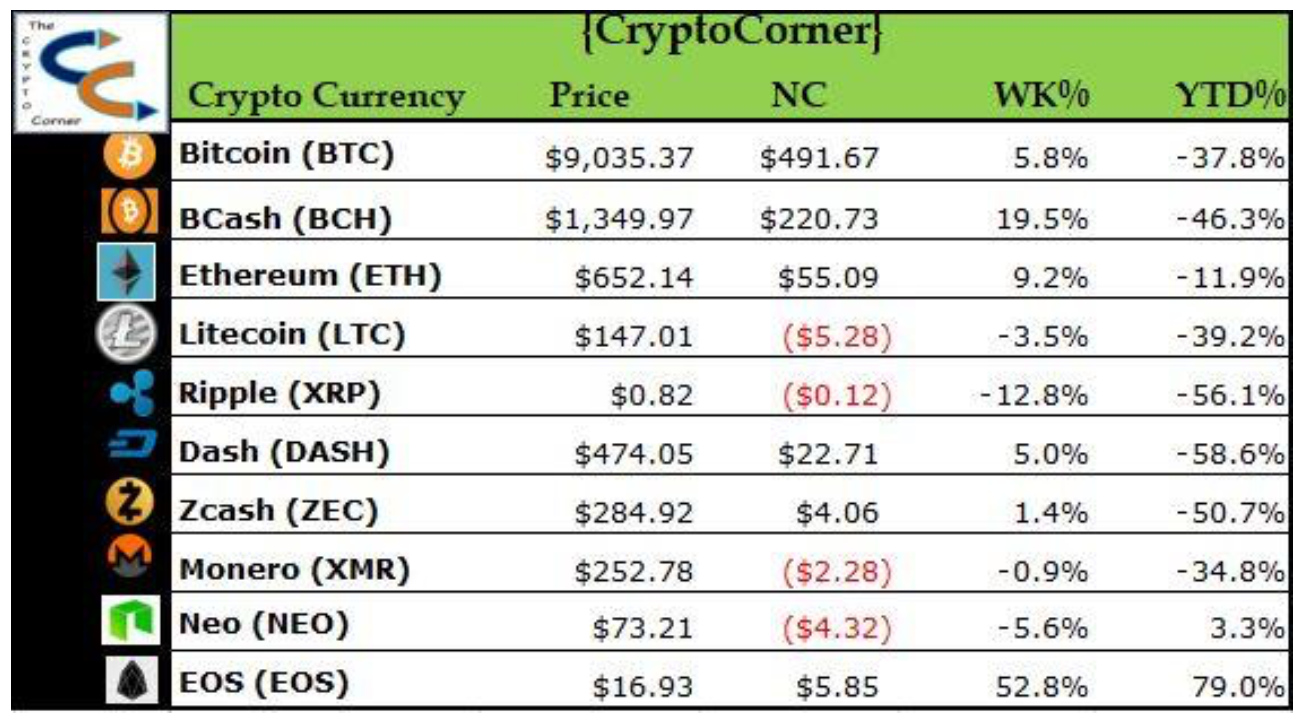 As you can see most of the coins we follow were up with EOS the very large standout up nearly 53% on the week! Now we don't expect a runaway freight train, but optimism is high and centered around the June 2nd move date, so we would be better buyers on any move toward $11. We feel the overall tone across the complex is that heavy buyers have lifted us off the lows and that we are in a more consolidated mode, which is a good sign for the overall market place.
We can see that our Crypto-Corner Index is up again this week settling at $3501.50 +$197.08 some 6% on the week, we would like to see a push above the $4300 area for confirmation of further upside bias: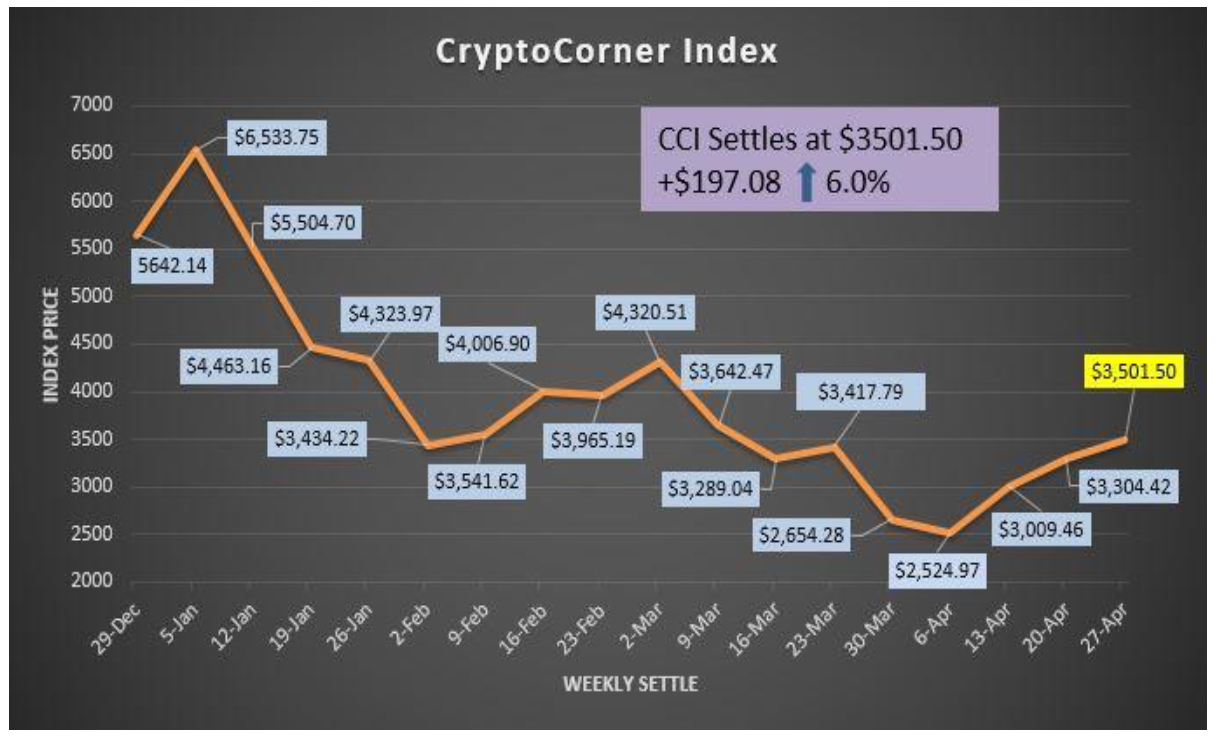 Looking at the top 5 wallets we can see that out of the top 5 spots only the largest wallet changed, dropping some 7965 BTC on the week putting their total wallet size at 188760. This is on the heels of nearly touching 200k BTC last week. Rounding out the top spots, all other wallets were unchanged and have seemingly gone quiet over the last few weeks, perhaps suggesting some long-term hold bias.
Our last section will move toward the technical side of things and this week we will cover Bitcoin, EOS, ETH and BCH.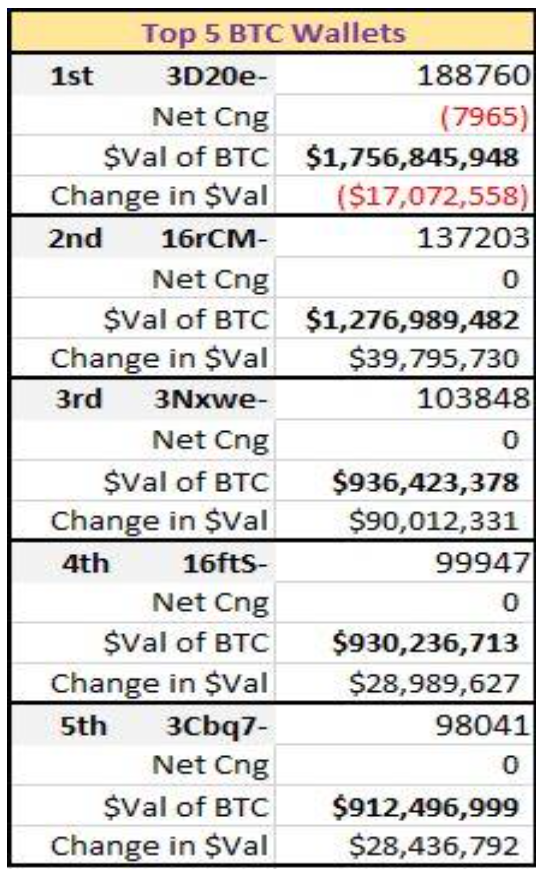 As our readers know we have been hard on Bitcoin Cash, but it seems as if some adopters are taking it under their wing, so we will continue to monitor its progress. Anyway, lets start out with a technical chart of Bitcoin, we see large support coming in around the $8190 area and would like to see the $9555 price overtaken for a renewed upside bull bias: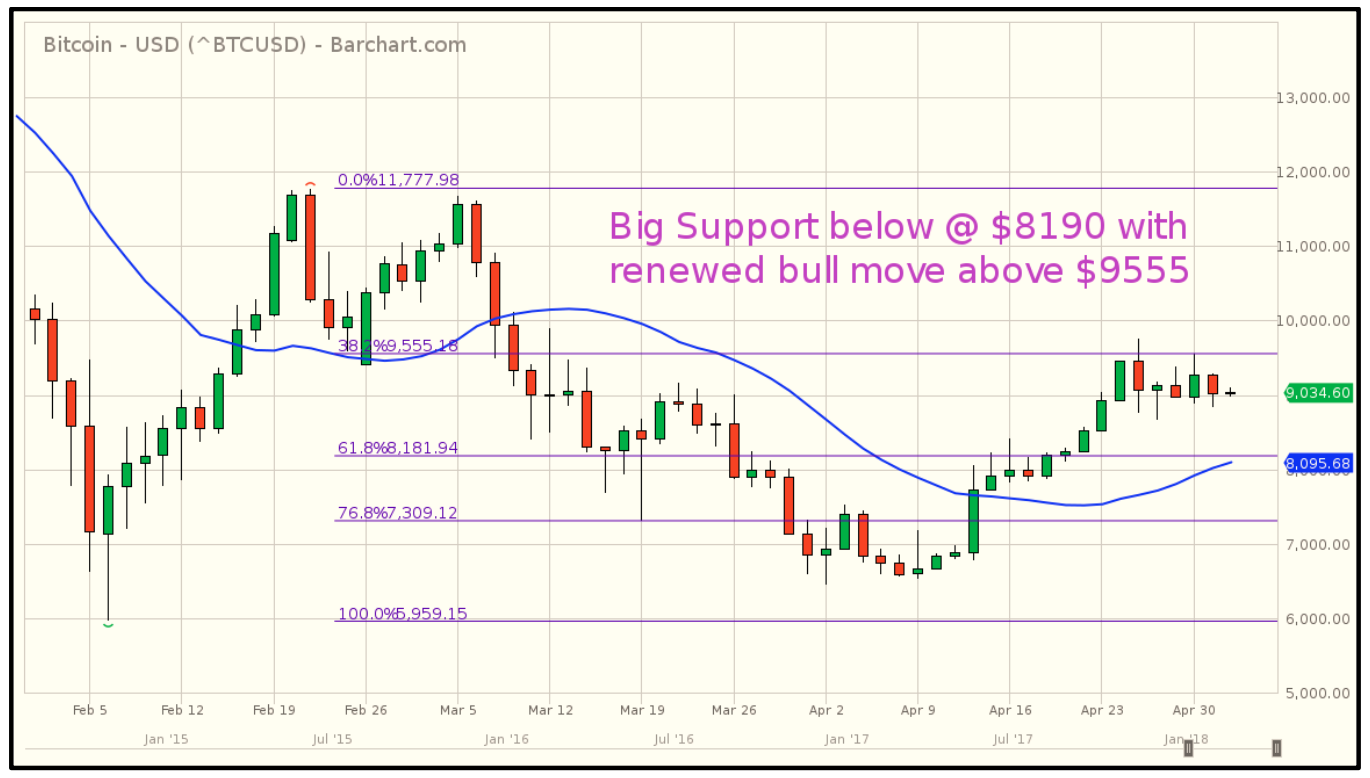 EOS is up next, you can see the large run up to $23 and now some settling in, we would like a chance to buy $11 area, but $15 should provide good support: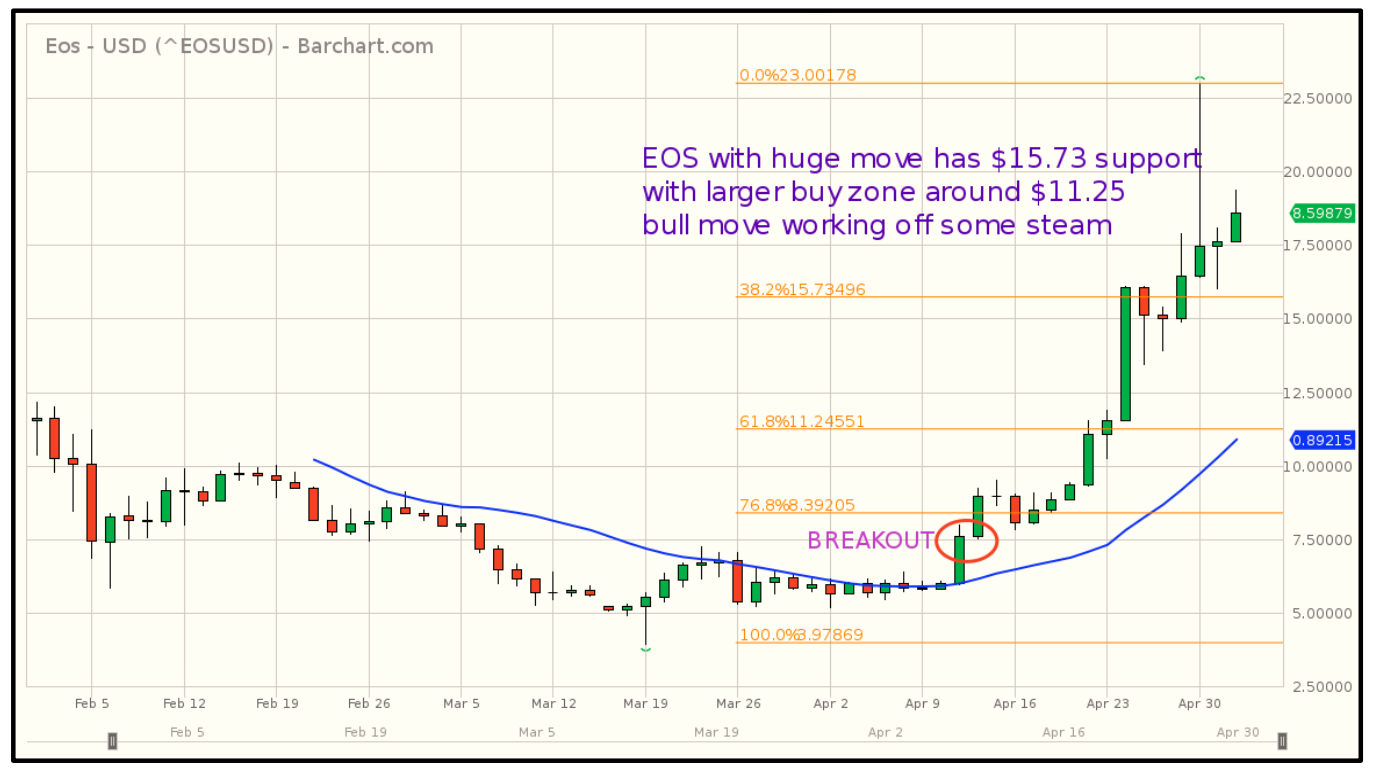 Ethereum has been in a solid consolidation mode, we would like to see $711 overtaken but, on the downside, would buy any backups toward the $536 area:
Finally, Bitcoin Cash it also seems to be consolidating and would look to scale in at $984 area and a push above $1574 for upside momentum: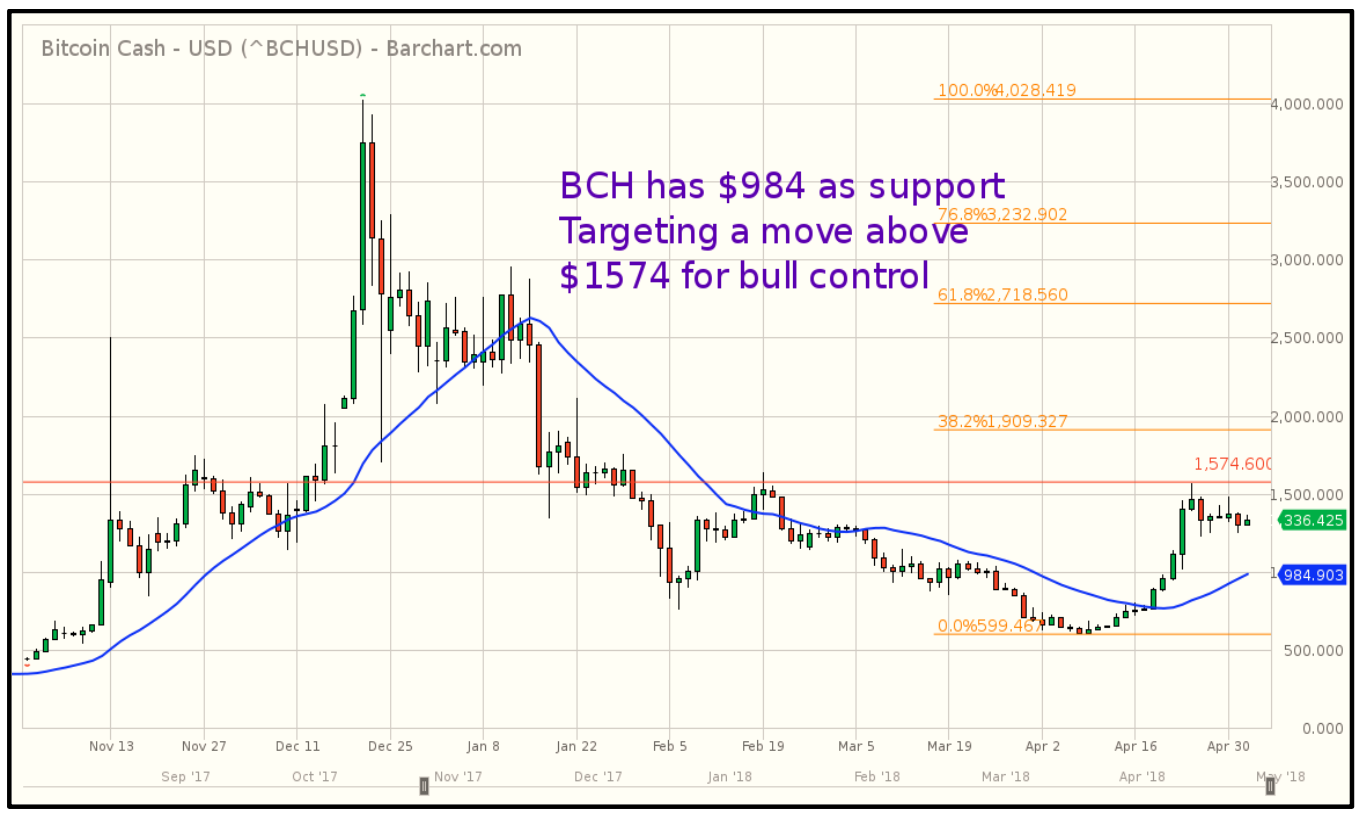 Ok, that's it folks, we hope you enjoyed this week's letter. We hope you learned something new, were inspired to learn even more and we hope that this helps you analyze the space a bit more constructively. We thank you for joining us in our journey down this great blockchain and
cryptocurrency path and we hope you continue reading and learning alongside us. We know you have many choices and we hope we remain one of them!
Cheers and best of luck this week trading and as always, follow your own guidelines, keep risk well within your reach and realize that there is always opportunity, so don't rush it!
Feel free to send this to your friends, family, colleagues and have them sign up for it as well. We aren't sure how long we can offer the free service, as you know we are working on both a global macro futures and options fund as well as a crypto centric based fund. So exciting times indeed. We are committed though, to continue to bring you quality coverage and despite not knowing what the future holds, we will always keep the lines of communication open. Peace out!
Finally, we will decidedly end our notes with our reaffirmation of the growing need for alternative strategies. We would like to think that our alternative view on markets is consistent with our preference for alternative risk and alpha driven strategies. Alternatives offer the investor a unique opportunity at non correlated returns and overall risk diversification. We believe combining traditional strategies with an alternative solution gives an investor a well-rounded approach to managing their long term portfolio. With the growing concentration of risk involved in passive index funds, with newly created artificial intelligence led investing and overall market illiquidity in times of market stress, alternatives can offset some of these risks.
It is our goal to keep you abreast of all the growing market risks as well as keep you aligned with potential alternative strategies to combat such risks. We hope you stay the course with us, ask more questions and become accustomed to looking at the markets from the same scope we do. Feel free to point out any inconsistencies, any questions that relate to the topics we talk about or even suggest certain markets that you may want more color upon. ____________________________________________________________________________________
Capital Trading Group, LLLP ("CTG") is an investment firm that believes safety and trust are the two most sought after attributes among investors and money managers alike. For over 30 years we have built our business and reputation in efforts to mitigate risk through diversification. We forge long-term relationships with both investors and money managers otherwise known as Commodity Trading Advisors (CTAs).
We are a firm with an important distinction: It is our belief that building strong relationships require more than offering a well-rounded set of investment vehicles; a first-hand understanding of the instruments and the organization behind those instruments is needed as well.
Futures trading is speculative and involves the potential loss of investment. Past results are not necessarily indicative of future results. Futures trading is not suitable for all investors.
Nell Sloane, Capital Trading Group, LLLP is not affiliated with nor do they endorse, sponsor, or recommend any product or service advertised herein, unless otherwise specifically noted.
This newsletter is published by Capital Trading Group, LLLP and Nell Sloane is the editor of this publication. The information contained herein was taken from financial information sources deemed to be reliable and accurate at the time it was published, but changes in the marketplace may cause this information to become out dated and obsolete. It should be noted that Capital Trading Group, LLLP nor Nell Sloane has verified the completeness of the information contained herein. Statements of opinion and recommendations, will be introduced as such, and generally reflect the judgment and opinions of Nell Sloane, these opinions may change at any time without written notice, and Capital Trading Group, LLLP assumes no duty or responsibility to update you regarding any changes. Market opinions contained herein are intended as general observations and are not intended as specific investment advice. Any references to products offered by Capital Trading Group, LLLP are not a solicitation for any investment. Readers are urged to contact your account representative for more information about the unique risks associated with futures trading and we encourage you to review all disclosures before making any decision to invest. This electronic newsletter does not constitute an offer of sales of any securities. Nell Sloane, Capital Trading Group, LLLP and their officers, directors, and/or employees may or may not have investments in markets or programs mentioned herein.