Capital Trading Group Blog
CryptoCorner (Jan 31)
01-31-2018
We continue to see a pullback in the crypto currency space. As always we like to keep things in context as the massive run up since last November is merely being walked back. We continue to see adoption in the space which can be displayed in the following chart which shows the cumulative growth in new BTC addresses since last November: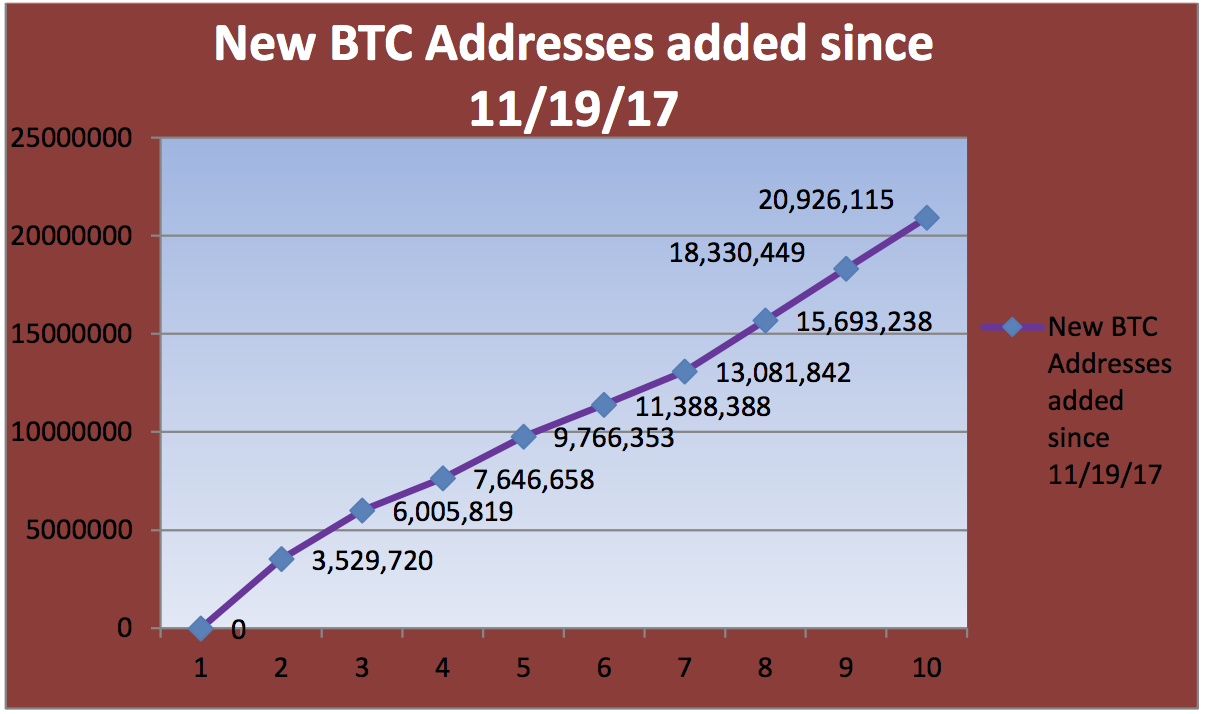 As usual the likes of J. Stiglitz and various banks were bashing Crypto at Davos stating things like, Bitcoin is used for "secret use cases" & that fiat currency is superior. We wouldn't expect anything less from old establishment style players.

 Hey Coinbase isn't going to complain, it was reported this week that they are making nearly $2.7 million a day and $1 Billion in revenue last year! Coinbase has some 13.5 million years and continues to grow.

 Robert Shiller at Davos said cryptocurrency is a "really clever idea, I'm impressed by the technology, blockchain is important, but it's not stable"

 Sweden's Deputy Central Bank governor summed Bitcoin up best at Davos, "The fact that people keep talking today that bitcoin is below 10,000, it's a disaster, or bitcoin is above 10,000 and that's crazy. I think the fact that bitcoin is still alive, and attracting so much attention, the fact that we're talking about bitcoin in Davos with a Nobel Prize winner, a central bank governor and a seasoned investor, I think that's a powerful tool"
 Mnuchin of course took a negative tone and stated "My number-one focus on crypto currency is that we want to make sure it's not used for illicit activity" –Hmm how about the U.S. Dollar Mr. Secretary?

 Japan's Coincheck exchange was hacked on January 26th, which saw a theft in the amount of $534 million in NEM coins. What is now known, and an apparently a major oversight by the exchange was the fact that the coins were stored on a single signature hot wallet. –How could they be this stupid??? Good news is that Coincheck plans on refunding in full all the users that were affected. This is in our opinion the essence of progress; we only wish Mt. Gox was so diligent. Further the development team at NEM announced its working on tracking the coins and tagging addresses that are involved.

-See we see this as good progress in an area that will continue to see constant threats, but it takes an ecosystem with the kind of players willing to right the wrongs, for it to grow organically and positively.
 Been reading a lot about EOS a platform being built by Dan Larimer of Block.one, we think our readers should look more into this. It seems as if it will compete directly with Ethereum. What is EOS? It is software that introduces a blockchain architecture designed to enable vertical and horizontal scaling of decentralized applications. It seems as if Mr. Larimer wants to solve the transaction support systems to handle massive volumes prior to jumping into running financial markets on blockchain. We admire their vision, so read further into what they are doing. His presentation can be viewed HERE

 Rapper 50 Cent's move to accept bitcoin for his 2014 "Animal Ambition" album has resulted in a multi-million dollar windfall! –Sure if he hasn't bailed by now!

 Mobius Network co-founder and CEO David Gobaud explains, why his startup ran its initial coin offering (ICO) on the Stellar network instead of Ethereum, the most popular blockchain for token sales. Noting Ethereum's scaling challenges. "the company that makes transacting in crypto easy, the fastest, stands to recoup benefits with a long tail," Gobaud said

 Chicago based DRW Holdings is hiring cryptocurrency experts at home and abroad. Its Cumberland Mining unit has been active since 2014, trading cryptocurrencies. DRW bought Bitcoin from the U.S. Government after the takedown of Silkroad, buying 27k BTC at the auction

 GDAX, the cryptocurrency exchange run by startup Coinbase, has partnered with trading software provider Trading Technologies to integrate spot bitcoin trading with futures on Bitcoin. –hmm latency front running anyone?

 Stock trading mobile app provider Robinhood plans to roll out Bitcoin and Ether trading services via its mobile apps next month, trades will be FREE! Robinhood has 3 million accounts. CEO Tenev said, "We envision a world where people can have your cryptos alongside your stocks, ETFs, and more" –Damn we applaud and fully support their effort!

Finally IMF managing director Christine Lagarde spoke briefly of the Bitcoin movement in Davos, she said the technology, and the distributed ledger technology is fascinating, has multiple uses like tracing transactions and in land ownership. She then said its anonymity is likely to facilitate money laundering, dark money. -Hmm so on one hand she says the technology is fascinating because of its ability to trace transactions and yet on the other hand they continue to push the illicit activities narrative. Well you can't really have it both ways now can you? You can't say the technology can trace transactions then turn around and complain that it's a boon for illicit anonymous users now can you? This is the typical double speak misdirection, but we know better now don't we.
In conclusion, we look forward to the State of the Union speech and considering Trump's demeanor, no doubt he will be speaking with a proud, boyish grin, the usual arrogance we have been accustomed to. Hell we don't even mind anymore, it works and that's why he was elected in a populist revolt, because the people want something that works. Some may not agree with everything he says, he does, nor the way he delivers it, but hey, we all know the great old adage: If you try pleasing everyone, you end up pleasing no one! Unfortunately there will always be sides, we just like being on the right side of things as opposed to the other alternative. Ok, we leave you with the weekly settles where you can see we have separated the traditional markets covered and added a new Crypto section. Cheers!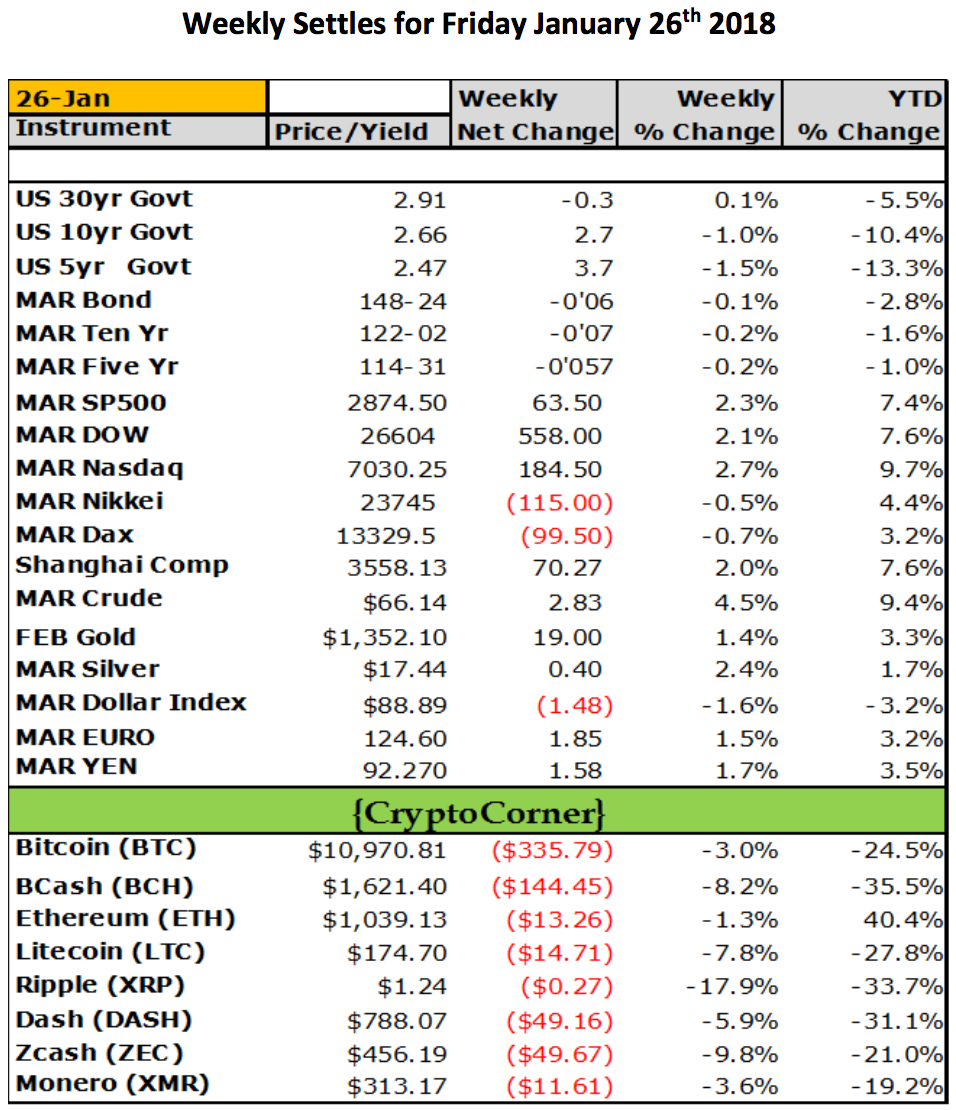 Finally, we will decidedly end our notes with our reaffirmation of the growing need for alternative strategies. We would like to think that our alternative view on markets is consistent with our preference for alternative risk and alpha driven strategies. Alternatives offer the investor a unique opportunity at non correlated returns and overall risk diversification. We believe combining traditional strategies with an alternative solution gives an investor a well-rounded approach to managing their long term portfolio. With the growing concentration of risk involved in passive index funds, with newly created artificial intelligence led investing and overall market illiquidity in times of market stress, alternatives can offset some of these risks.
It is our goal to keep you abreast of all the growing market risks as well as keep you aligned with potential alternative strategies to combat such risks. We hope you stay the course with us, ask more questions and become accustomed to looking at the markets from the same scope we do. Feel free to point out any inconsistencies, any questions that relate to the topics we talk about or even suggest certain markets that you may want more color upon.
____________________________________________________________________________________
Capital Trading Group, LLLP ("CTG") is an investment firm that believes safety and trust are the two most sought after attributes among investors and money managers alike. For over 30 years we have built our business and reputation in efforts to mitigate risk through diversification. We forge long-term relationships with both investors and money managers otherwise known as Commodity Trading Advisors (CTAs).
We are a firm with an important distinction: It is our belief that building strong relationships require more than offering a well-rounded set of investment vehicles; a first-hand understanding of the instruments and the organization behind those instruments is needed as well.
Futures trading is speculative and involves the potential loss of investment. Past results are not necessarily indicative of future results. Futures trading is not suitable for all investors.
Nell Sloane, Capital Trading Group, LLLP is not affiliated with nor do they endorse, sponsor, or recommend any product or service advertised herein, unless otherwise specifically noted.
This newsletter is published by Capital Trading Group, LLLP and Nell Sloane is the editor of this publication. The information contained herein was taken from financial information sources deemed to be reliable and accurate at the time it was published, but changes in the marketplace may cause this information to become out dated and obsolete. It should be noted that Capital Trading Group, LLLP nor Nell Sloane has verified the completeness of the information contained herein. Statements of opinion and recommendations, will be introduced as such, and generally reflect the judgment and opinions of Nell Sloane, these opinions may change at any time without written notice, and Capital Trading Group, LLLP assumes no duty or responsibility to update you regarding any changes. Market opinions contained herein are intended as general observations and are not intended as specific investment advice. Any references to products offered by Capital Trading Group, LLLP are not a solicitation for any investment. Readers are urged to contact your account representative for more information about the unique risks associated with futures trading and we encourage you to review all disclosures before making any decision to invest. This electronic newsletter does not constitute an offer of sales of any securities. Nell Sloane, Capital Trading Group, LLLP and their officers, directors, and/or employees may or may not have investments in markets or programs mentioned herein.