Capital Trading Group Blog
CryptoCorner (Feb 15)
02-15-2018
The overall Crypto space had a decent week as 7 out of the 8 crypto we follow posted positive weekly gains. The only loser on the week was Ethereum (-$7.40). Zcash and Litecoin were the stand outs posting 32% and 30% weekly gains respectively. Bitcoin even mustered a $232.73 up 2.7% its first weekly gain in months based upon our proprietary charting. We know that the $5900 level was huge and this 50% rally off the lows is significant in our opinion. Anyway, before we get to more commentary here is the weekly settle chart based on Friday 2 9 18 closing prices.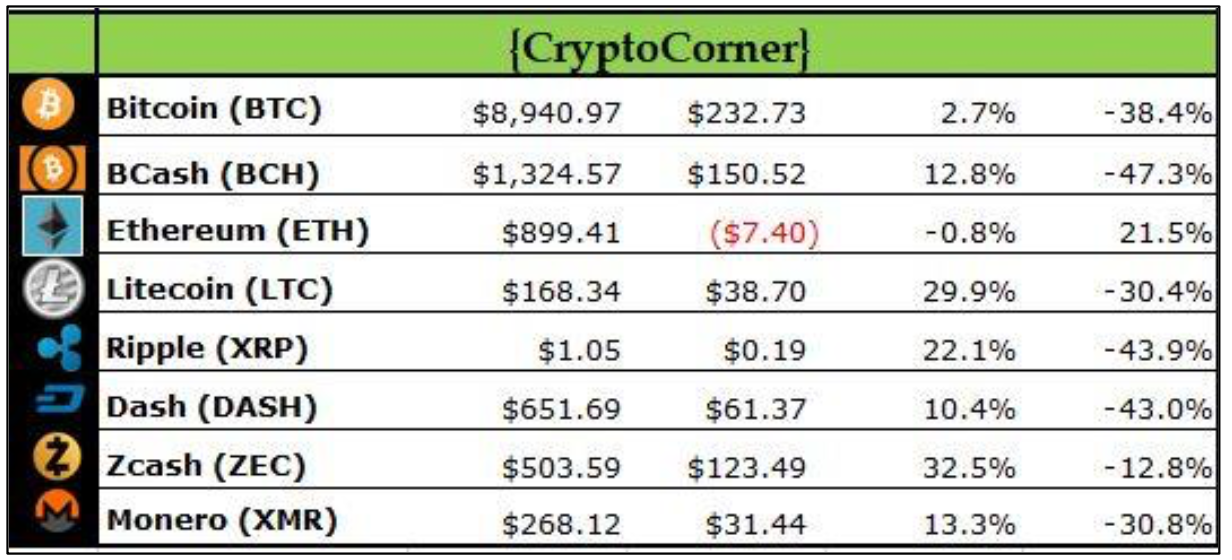 We have decided to create a weighted index of these 8 cryptos and will keep track of the weekly settlement chart shown here: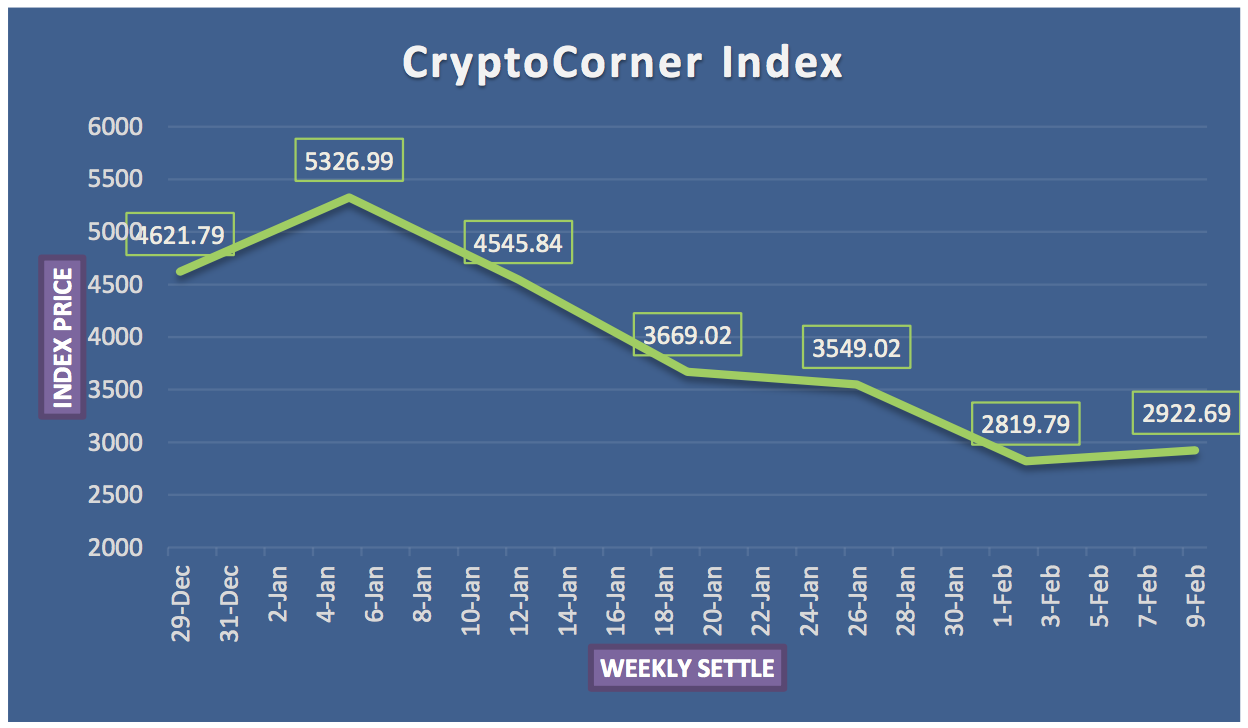 Our weekly data will be plotted using a market cap weighted average and thus you can consider the y axis as a dollar amount to buy our index or CCI. The goal is to strip out any one single crypto having too much of an effect in aggregate in order to smooth volatility over time. We want to give our readers a clearer picture of the broader market. We may add additional crypto to the list, but considering the difficulty in accessing or trading certain coins we generally will commit to only the larger more well-known coins at this time.
Ok so what have we seen this week? Goldman pointed out a great facet of crypto currencies and they used the following picture to put things into perspective (no doubt making comparison to cartel drug use as well):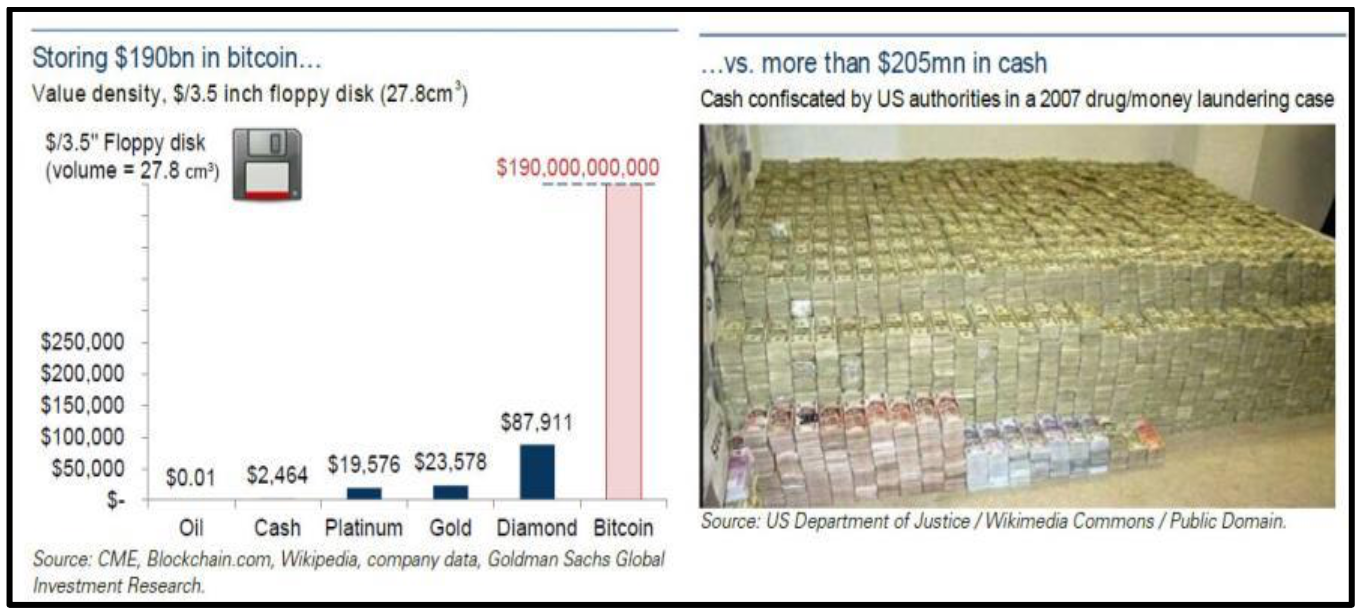 The attribute or facet they were speaking of was how much value crypto currencies can concentrate in virtually no physical space. They went on to say,
"Unlike other storage commodities like oil, gold, platinum, diamonds, and even cash, there is no need to hold much physical material to own bitcoin; even a technology as obsolete as the 31⁄2 inch floppy disk can hold almost 30,000 private keys. There is no theoretical upper limit to the value of bitcoins in a wallet, but if we assume each wallet secured by this disk contains as much as the largest wallet today (180,000 BTC), this single disk could "hold" all bitcoins in existence and remain less than 0.5% full. Assuming a bitcoin market cap of roughly $190bn (as of late January), this disk would be the equivalent to either: 95% of the 4,583 tons of gold in Fort Knox, or 1,344 Very Large Crude Carrier supertankers of oil."
Forbes magazine published its first ever "Richest People in Crypto" List. Some of the more notable names were obviously the Winklevoss twins Cameron and Tyler whose original claim to fame was MZuck stealing their idea and creating Facebook. Now the current owners of Gemini a cryptocurrency trading exchange. Also, on the list Mike Novogratz of Galaxy Investment partners, he is currently working on creating a blockchain crypto currency merchant bank. Another notable, Vitalik Buterin the creator of Ethereum and Ripple's Chris Larsen. If you want to read about the others on the list the article can be found Here.
Also, out this week was an awesome and informative piece aptly entitled, "How Blockchain Could Disrupt Banking." We highly suggest you read it in full. It has a ton of information and it gives an excellent detailed breakdown of blockchain and those currently working on the next generation of trusted blockchain systems for monetary transfer utility. It does a fantastic job of breaking the monetary payment transfer system in its current form, the costs associated with that system and how blockchain can substantially lower fees and costs. The article can be found on CBInsights website or Here. One chart we would like to point out from the article is this one here displaying the fundraising most blockchain companies use and those are referred to as ICOs or Initial Coin Offerings. In 2017 $5.6B was raised through ICOs and the trend is apparent in the chart: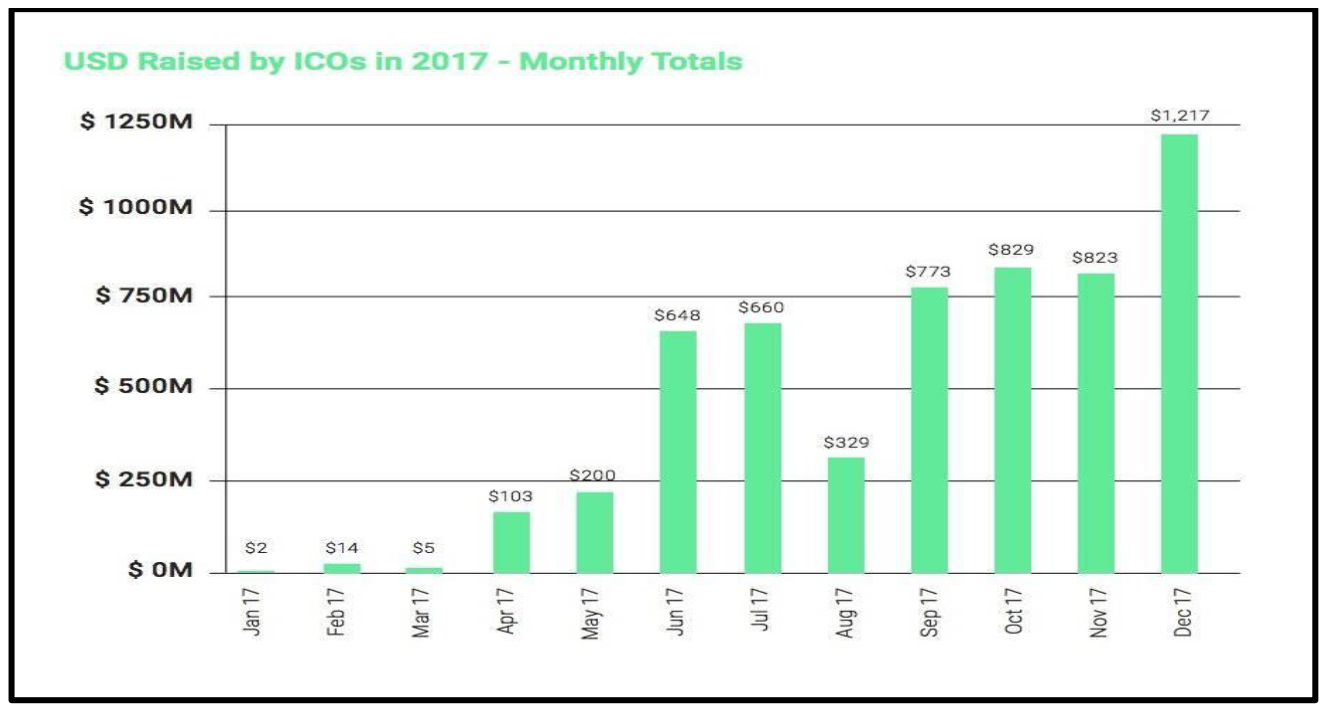 We found an awesome chart this week from howmuch.net, that does a great job in visualizing the market corrections in Bitcoin. For those that love consistency, well, take comfort in knowing that every time Bitcoin has fallen it has regained and made a new high. Will this time be different? We don't think so and this chart gives us more than enough pudding for proof: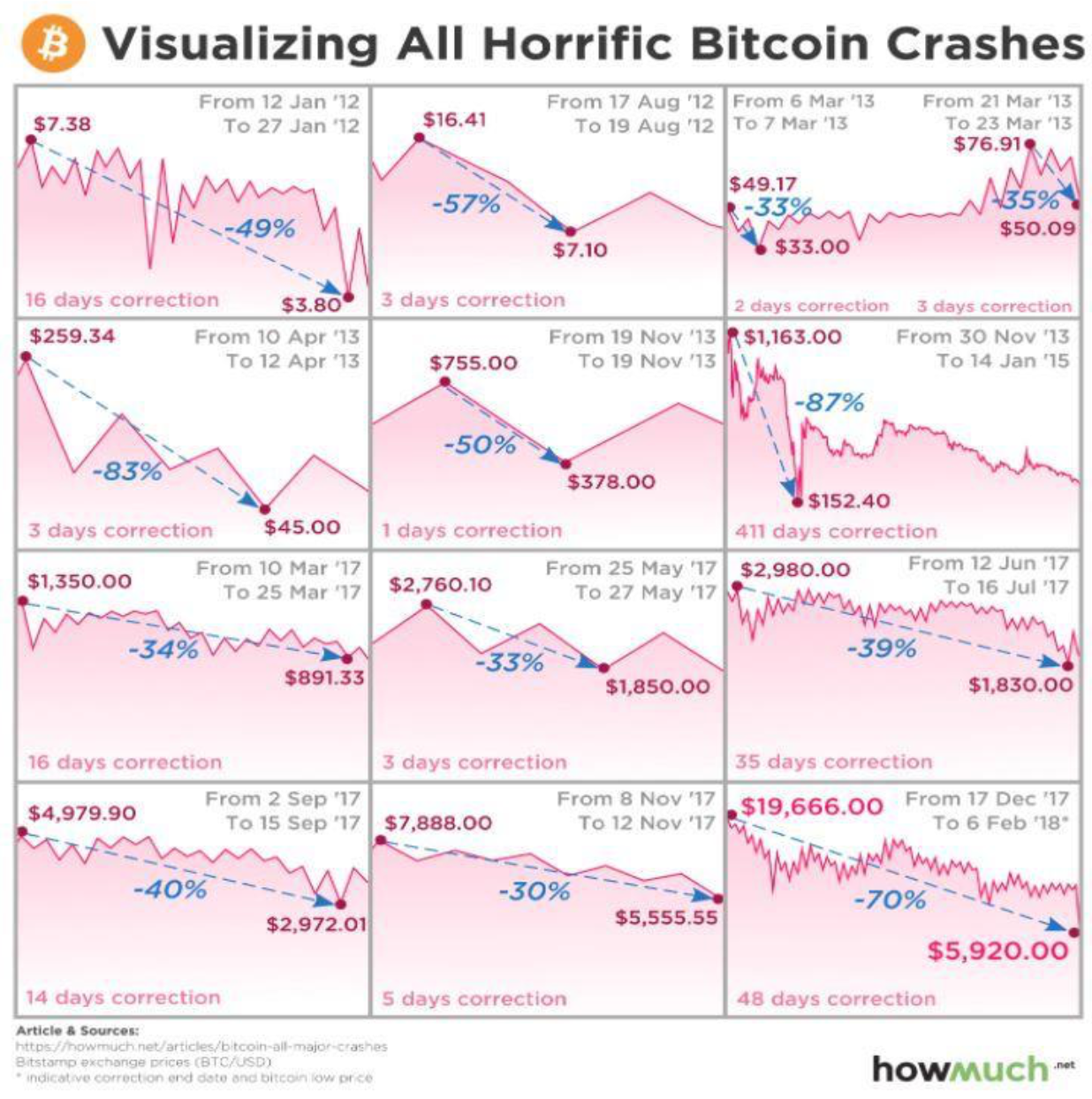 In other industry news, a blockchain project based in Switzerland, DFINITY has raised $61 million from a group of investors that includes venture capital giant Andreessen Horowitz and token hedge fund Polychain Capital. Funding would go toward development of its blockchain protocol, aimed to support a public decentralized cloud computing platform. According to Reuters, $21 million of the total will be dedicated to development, with the rest devoted to a venture fund aimed at supporting developers and teams working on applications of the protocol.
Announced on Feb. 7th, Chinese payment provider LianLian International is joining RippleNet, the payment network that uses Ripple's blockchain technology to facilitate cross-border transactions.
The creator of the Bitcoin Investment Trust, Grayscale, a subsidiary of Digital Currency Group is launching its fourth fund aimed at giving accredited investors a way to explore cryptocurrencies. The offering, formally called the Digital Large Cap Fund, is designed to give investors exposure to the five largest cryptocurrencies based on market capitalization.
We read a piece on a new coin called Spankchain for the adult entertainment industry. We can only figure what else will go into this, but put it on your radar if you want to dig deeper, we are just tossing it out there, but many are taking it seriously so we had to put that in here. Now onto government bitcoin and blockchain news.
The Florida House of Representatives in January aims to legally recognize blockchain records and smart contracts. The measure would introduce stipulations that blockchain ledgers and smart contracts be treated as legally-binding means of recording data, so long as no pre-existing laws or regulations are infringed in the process.
Arizona State Representative Jeff Weninger (R-Chandler), the author of a 2017 bill enshrining the legality of blockchain signatures and smart contracts under state law, has submitted a bill that wants to protect blockchain node operators from possible prohibitions by local and county governments. We can only applaud such state level open-mindedness. Sticking in the fine state, A new bill passed in the Arizona Senate will allow residents of the state to pay their taxes in bitcoin. The bill, which is now being sent to the Arizona House of Representatives for approval, would make Arizona the first state to accept digital currency as a method of payment for taxes.
This bill also comes on the heels of the State of Wyoming which is passing its own blockchain, crypto and ICO legalization bills. Through the efforts of people like Caitlin Long, former head of Symbiont the blockchain ecosystem continues to grow, word is the Wyoming bills passed vote by wide margins to introduce the bills. Good news and we are just at the beginning stages of seeing exactly which states are progressive and which ones are stuck in their old debt trodden ways.
Speaking of old ways Patricia Dillon, a Connecticut lawmaker has introduced a bill seeking to impose fees on cryptocurrency. The proposed Bill 5001 states "that the general statutes be amended to establish a fee to transfer or trade virtual currency in this state."
An ECB council member recently put forth the idea of requiring people who transact with cryptocurrencies in the E.U. to pay value-added tax (VAT) – a scenario already in place in Australia.
On a more somber note we recognize John Perry Barlow, who died this week at a young age of 70. He was not only long-time lyricist of the Grateful Dead but was a huge digital rights advocate. He was an early advocate of a permission-less internet way back in the early 90s, when he cofounded the Electronic Frontier Foundation. While attending an event at Stanford University in 2015 he said this,
"You are designing the architechture of liberty and enslacement, both, in these tools that are being derived around the blockchain and other things like it... What you do and the ways in which you do it will have long-lasting effects."
He will certainly be missed by all in the digital community. Ok enough of the fundamentals how bout a few charts. The first chart is the CBOE XBT futures contract. After a dismal 72.3% loss from its highs, it is now butting right up against resistance. This area is key if further upside probes are to be sustained, if 8590 gives way, expect 11751 the 38.2 to be next in line: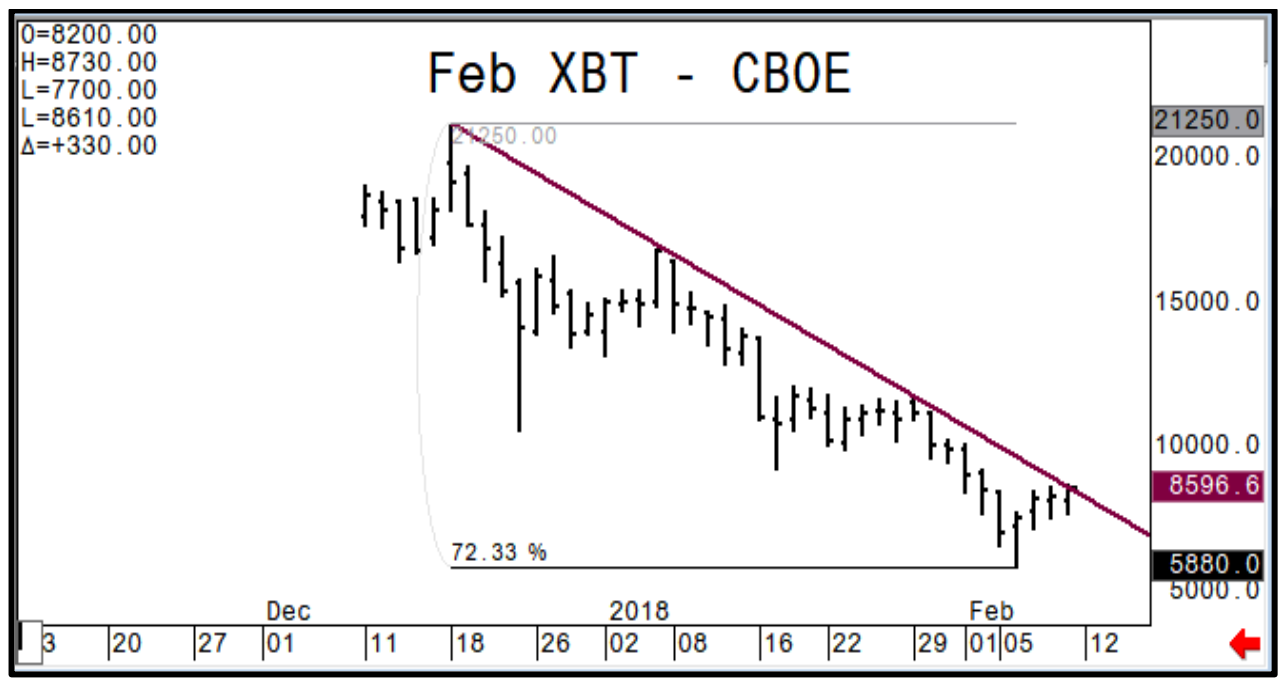 As of this writing Bitcoin and the cryptos have had a decent pop through some nice technical levels, we will look at Bitcoin, Ethereum and Litecoin, technical charts from Cryptowat. First up is Bitcoin, which you will see broke through the 8500 level, retested it and now over $9200, which is offering some decent resistance: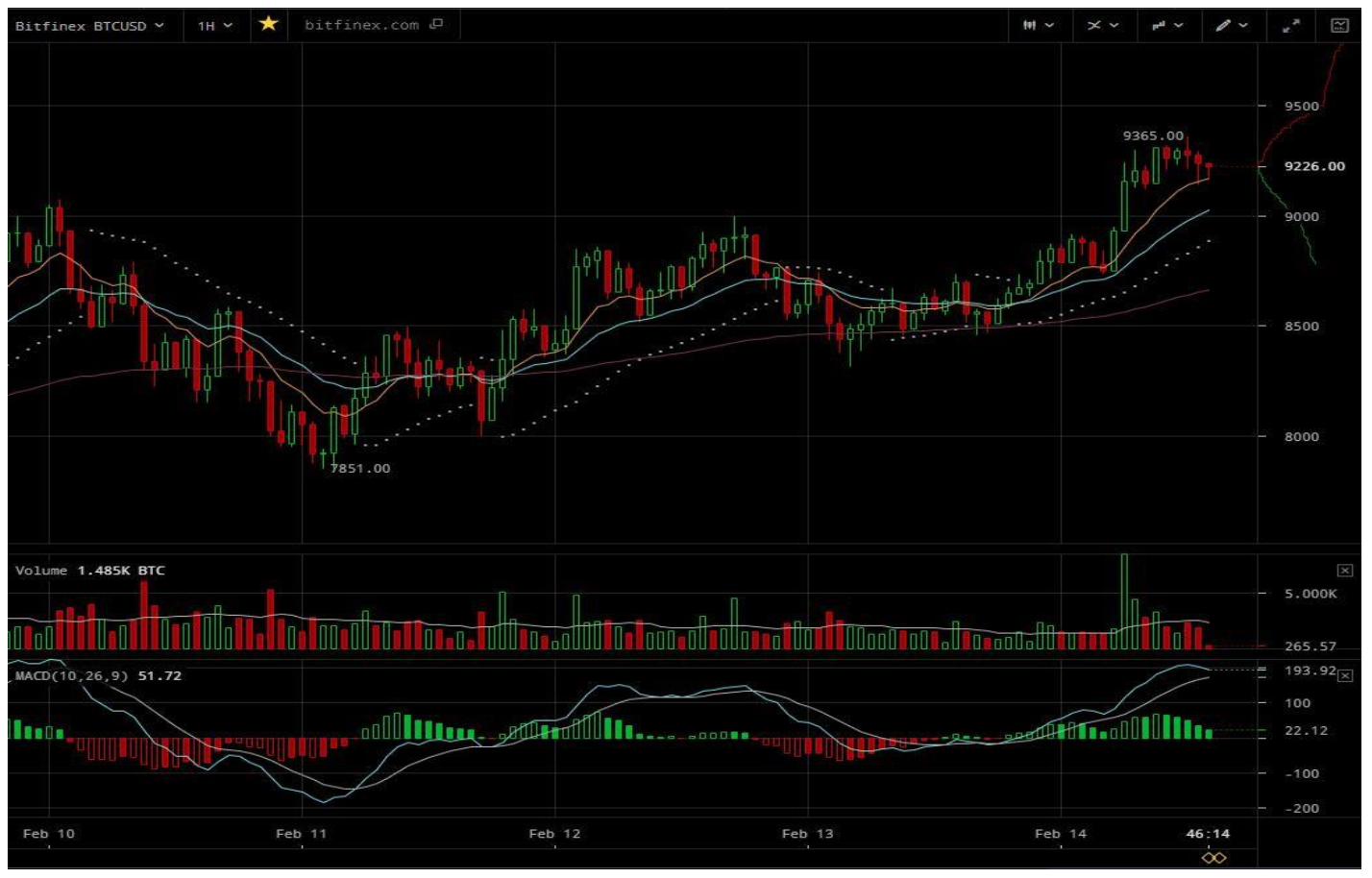 Next chart is Ethereum which it also has had a nice run up after breaking $850 and restesting it, to now running into $900 resistance: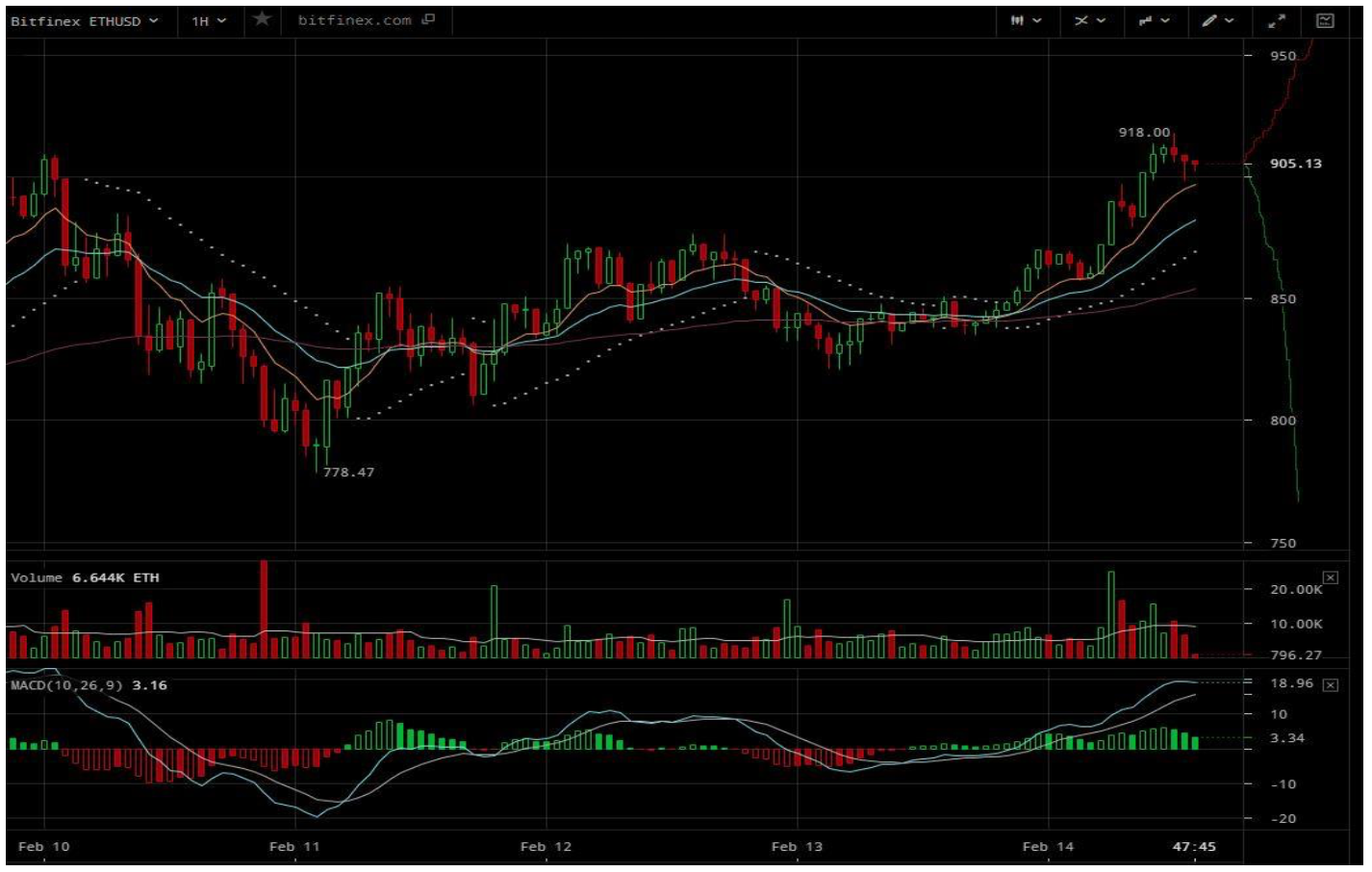 Finally, Litecoin which has had a real nice run after busting the $150 level, now some 33.3% higher running into the $200/$210 level where SatoshiLite dumped some 15k coins on its first trip up here a few months ago: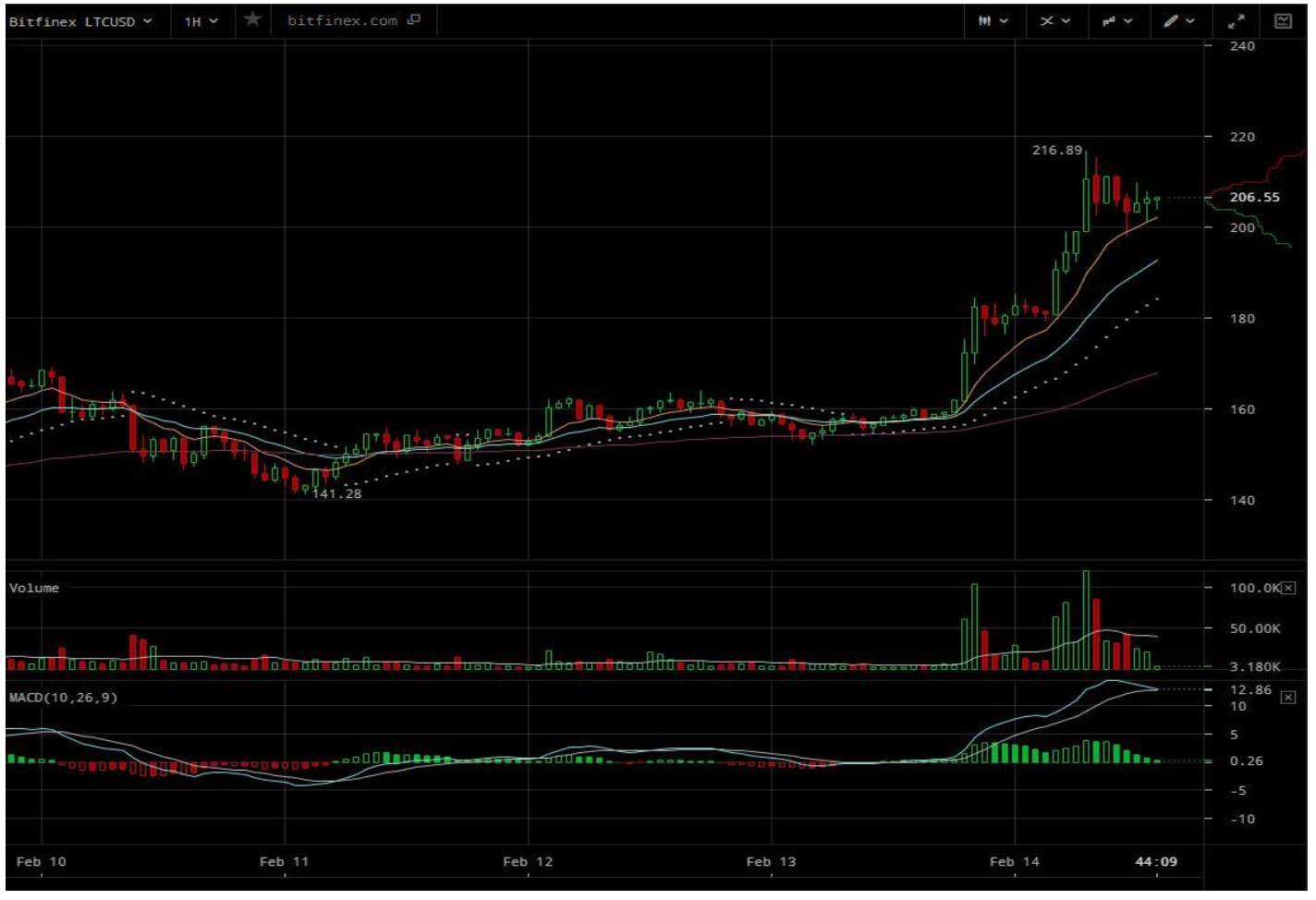 As far as the bitcoin wallets, the top 2 are in a dead heat with 167203 and 161339 respectively, with the top wallet shedding 5k BTC on the week and the 2nd place adding 1279 BTC. Net new BTC addresses picked up toward its average of 2.3m new addresses last week. Fundamentals remain strong and we can only expect wider adoption means greater absorption and an even stronger blockchain and crypto eco system in general. We look forward to bringing you continued coverage. Cheers!
*Past Performance is not indicative of future results.​
DISCLAIMER: For Educational purposes only. This is not a solicitation to buy or sell commodity futures or options on neither commodity futures nor an endorsement for the purchase and sale of ICOs or Cryptocurrency and should not be construed as such. The risk of trading securities, futures and options can be substantial and is not for everyone. Such investments may not be appropriate for the recipient. The valuation of futures and options may fluctuate, and, as a result, clients may lose more than their original investment. Nothing contained in this message may be construed as an express or an implied promise, guarantee or implication by, of, or from the author Mike Agne of Agne Asset Management LLC (AAM) and owner of www.econemotions.com and the CryptoCorner Newsletter, that you will profit or that losses can or will be limited in any manner whatsoever. Past performance is not necessarily indicative of future results. Although care has been taken to assure the accuracy, completeness and reliability of the information contained herein, (AAM) makes no warranty, express or implied, or assumes any legal liability or responsibility for the accuracy, completeness, reliability or usefulness of any information, product, service or process disclosed. This newsletter is the PROPERTY OF (AAM). DO NOT COPY OR FORWARD INTELLECTUAL PROPERTY WITHOUT PRIOR WRITTEN CONSENT AND OR APPROVAL.
Finally, we will decidedly end our notes with our reaffirmation of the growing need for alternative strategies. We would like to think that our alternative view on markets is consistent with our preference for alternative risk and alpha driven strategies. Alternatives offer the investor a unique opportunity at non correlated returns and overall risk diversification. We believe combining traditional strategies with an alternative solution gives an investor a well-rounded approach to managing their long term portfolio. With the growing concentration of risk involved in passive index funds, with newly created artificial intelligence led investing and overall market illiquidity in times of market stress, alternatives can offset some of these risks.
It is our goal to keep you abreast of all the growing market risks as well as keep you aligned with potential alternative strategies to combat such risks. We hope you stay the course with us, ask more questions and become accustomed to looking at the markets from the same scope we do. Feel free to point out any inconsistencies, any questions that relate to the topics we talk about or even suggest certain markets that you may want more color upon.
____________________________________________________________________________________
Capital Trading Group, LLLP ("CTG") is an investment firm that believes safety and trust are the two most sought after attributes among investors and money managers alike. For over 30 years we have built our business and reputation in efforts to mitigate risk through diversification. We forge long-term relationships with both investors and money managers otherwise known as Commodity Trading Advisors (CTAs).
We are a firm with an important distinction: It is our belief that building strong relationships require more than offering a well-rounded set of investment vehicles; a first-hand understanding of the instruments and the organization behind those instruments is needed as well.
Futures trading is speculative and involves the potential loss of investment. Past results are not necessarily indicative of future results. Futures trading is not suitable for all investors.
Nell Sloane, Capital Trading Group, LLLP is not affiliated with nor do they endorse, sponsor, or recommend any product or service advertised herein, unless otherwise specifically noted.
This newsletter is published by Capital Trading Group, LLLP and Nell Sloane is the editor of this publication. The information contained herein was taken from financial information sources deemed to be reliable and accurate at the time it was published, but changes in the marketplace may cause this information to become out dated and obsolete. It should be noted that Capital Trading Group, LLLP nor Nell Sloane has verified the completeness of the information contained herein. Statements of opinion and recommendations, will be introduced as such, and generally reflect the judgment and opinions of Nell Sloane, these opinions may change at any time without written notice, and Capital Trading Group, LLLP assumes no duty or responsibility to update you regarding any changes. Market opinions contained herein are intended as general observations and are not intended as specific investment advice. Any references to products offered by Capital Trading Group, LLLP are not a solicitation for any investment. Readers are urged to contact your account representative for more information about the unique risks associated with futures trading and we encourage you to review all disclosures before making any decision to invest. This electronic newsletter does not constitute an offer of sales of any securities. Nell Sloane, Capital Trading Group, LLLP and their officers, directors, and/or employees may or may not have investments in markets or programs mentioned herein.